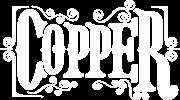 Copper is a new restaurant in Singapore, the bar has been open since late 2014, but the restaurant only opened in the past month or so. This dinner at Copper Singapore was one of the more enjoyable meals I have had in this year.
We, Robert of Wine Exchange Asia  who arranged the dinner, and I were looked after by the owner Alex, he is the one standing at the head of the table looking serious, the entire night, which added to the occasion. Alex chose every item within Copper, from the hand-made stemware through to the chandelier. I really like the feel of the place and the food it has to be experienced to understand how good it is, hopefully my photos will do it justice.
A metal bulls head sculpture
The hand blown stemware, each glass is individually signed by the glass-smith.

My Rant
The number of no-shows at restaurants in Singapore is on the rise and on the Friday Night that we dined at Copper only one other table turned up, even though the restaurant was booked out, there should have been around twelve people dining, in the end there were only four.
This lack of courtesy shown by the people booking tables and not showing up or even calling the restaurant to tell them that they can't make it is apparently on the rise. The impact of this sort of thing is that the restaurants affected are unable to accept other bookings and waste the food that was ordered and prepared for the meals that were to be served. With small restaurants this has a huge impact because of the loss of revenue but the costs associated remain the same. What is worse is that there are apparently groups who are booking tables in multiple restaurants and then picking one of them on the night and not cancelling the bookings.
Not sure what can be done to stop it a part from create a list and prevent them from booking in the future, but it would not be hard for the inconsiderate fools to use another name to make their bookings for them!
That is it for my rant!
Now for the food and wine!!
What We Ate
What We Drank
 

The Menu
Starters
Bread Basket
The Duck

Duck Ravioli with Jerusalem Artichokes & Duck Jus

The Stew

Spicy Trippes Cocotte in Italian Style Tomatoes, Olives, Anchovies, Capers, White Beans and Pepperoncino

The Chicken

Yakitori of Chicken Hearts with 'NOGNE' Dark Ale Teriyaki Glaze

The Pate
The Egg

Josper Barns Eggs with Forest Mushroom, Smoked Hollandaise and Truffle Snow

The Salad

Fresh Fennel and Orange Salad with Toasted Almonds, Bouquets of Chervil, Taragorn and Dill
Mains
The Beef

Charcoal Broiled 120g Kagoshima A5 Striploin, Herb Salad, Salt Around The World With Mirin and Gin Glaze

The Venison

Charcoal Broiled 130 / 150g, Roasted Garlic and Blackberry Marinade and Pumpkin Mash

The Pigeon

Pigeon A La Francaise with Petits Pois and Turnips with Cognac Flambe

The Pig

Pig's Trotter Stuffed with Chicken Mousse, Mushrooms & Madeira Jus

The Rabbit

Hunter's Den Rabbit in Red Wine Stock Pot with Potato Gnocchi

The Cod

Black Cod Poached in Red Wine, Valrhona Chocolate Sauce and White Bean Ragout
Side Dishes
The Potatoes

Ultimate Potatoe Puree
Roesti

The Corn

Corn Flan
Corn Griddle Cakes

The Veggies

Caramalized Brussels Sprouts
Josper Banana Shallots

The Pasta

Spatzle Al Gorgonzola
Zinfandel Spaghetti
Dessert
Gorgonzola Cheesecake

Gorgonzola Cheesecake with Roasted Grapes, Sarawak Pepper Honey

Rum Baba

Rum baba, Mascarpone Cream, Dark Rum and Berries

StrawberrySamosa

Strawberry Cream and Strawberries

AlmondDacquoise

Dacquoise, Almond Meringue, Macerated Berries and Balsamic Glaze